Why Hungary?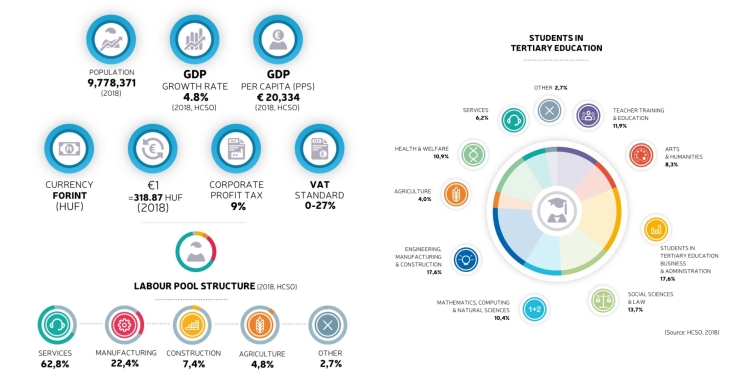 Exhibitions in Hungary (2021-2022)
Construma
This exhibition bunch for the Hungarian top event of construction industry. In 2019, in addition to the CONSTRUMA and HOMEDesign (interior design) exhibitions, the biennial HUNGAROTHERM (building engineering) was also organised, providing an even broader range of information for visitors on the novelties.
Reflecting the importance of the construction industry in Hungary, the bunch presents the novelties of the industry with  hundreds of exhibitors, in 5 pavilions and on free area  for 45-50,000 visitors  every time. It offers the widest spectrum of home-building to visitors, so it is the most important event for the profession in this way. It offers a set of professional programs that are not available in this form other way. This complex exhibition bunch for building industry, building engineering and home decoration is unique in this region, and the biggest on this way. 
MACH-TECH and INDUSTRY DAYS
This June we will bring you yet another event with nearly all industries so that exhibitors and visitors could give and get first-hand information on professional trends, and participants could utilize the existing synergies between the various branches of industry.
WHY YOU WILL FIND IT WORTHWHILE TO EXHIBIT IN 2021:
The most prestigious Hungarian industrial exhibition with a fundamental regional role
You can showcase your products and services for Hungarian and international professional visitors and the key market players  
Customized services to boost the efficiency of your exhibition
Characterized by a rich professional programme, the event enjoys wide professional and state support
Industry representatives and decision makers are welcomed by high-end professional presentations, conferences and business forums
Visitors are mobilized by a national and cross-border media and DM campaign
We expect 600 exhibitors and 20,000 professional visitors of 4000 companies from at least 30 industries from the CEE region, who will be all at the same place and the same time to get an insight into the supply and the players in the market as well as the latest trends, innovations and the opportunities offered by the various industries.
The event allows you to intensify your relations with your existing customers and acquire new ones
Still a highlighted theme – INDUSTRY 4.0
The special event offers complex solutions for small, medium and large enterprises with INDUSTRY 4.0 again featured as a highlighted topic in 2021. 
Exhibitors will enjoy exceptional attention when presenting their solutions offered by INDUSTRY 4.0, particularly the developmental trends of automation and industrial electronics, intelligent machines communicating with one another (M2M), self-adjusting manufacturing processes and highly effective mass production methods.
Automotive Hungary
AUTOMOTIVE HUNGARY presented a sector-specific matrix for the automotive industry that includes some elements of electronics, IT, software, machinery, plastic industry, glass industry, chemical industry and the composite industry.
In addition to the participation of Hungarian OEMs and component manufacturers we are looking for representatives of manufacturing process and supplier services, manufacturers and distributors of automotive components and systems, SI companies, factory equipments and industry-related service providers as exhibitors.
EXTRA DISCOUNT: if you participate in the Y2021 event, you can book your place for 2022 with a discount up to 50%
Date: 16-18 November 2021
AGROMashEXPO
Every year, AGROmashEXPO and AgrárgépShow are the most significant professional events of the Hungarian agricultural business, presenting the latest innovations and trends to farmers in the sector's rest period. Simultaneous events: Hungarian Garden, Viticulture & Viniculture.
Back in 2019, nearly 350 exhibitors presented their products and services in 40,000 square meters in the field of input, mechanization and logistic. Despite of the harsh winter weather, more than 47,000 visitors came to the trade exhibition.
In 2020, Hungexpo did its best to prepare as fully as possible for the 39th AGROmashEXPO, which was organized in a virtual form due to the restrictive measures imposed due to the epidemic caused by the COVID-19 virus. Gábor Ganczer, CEO of Hungexpo Zrt., reminded the audience at the opening ceremony of the exhibition, streamed live from the virtual studio of the company, that this is the company's first fully virtual exhibition, which is a milestone not only for Hungexpo, but for the entire Hungarian exhibition organizing profession.
FeHoVa
International exhibitors and visitors, wide range of accompanying events and great offers are the three essential parts which make FeHoVa's atmosphere so special. All about weapon – gunsmith companies, arms dealers, and bow manufacterers. All about fishing - baits, fishing rods, famous anglers. All about hunting – broad range of different accessories from clothes, through whistles to knifes. All about experience – tour organisers are also waiting for the visitors at HUNGEXPO Budapest Fair Center.
2019 marked the 26th anniversary of FeHoVa. The anniversary arms, fishing and hunting exhibition was successfully concluded, yet again exceeding the expectations based on the previous years. 300 exhibitors from 17 countries displayed their products and services over the course of 4 days to a total of 55,000 visitors.
We would like to draw your attention to FeHoVa+ where exhibitors and visitors can meet between September 30 and October 3, 2021, in a separate pavilion at the One with Nature World of Hunting and Nature Exhibition. 
Date: 17-20 February 2022
Budapest Boat Show
Both the organisers and visitors agreed that holding Budapest Boat Show 2018 together with Travel exhibition was a successful decision. Hungary's greatest landlocked harbour, the season opening grand event of boating and water sports presented the Hungarian sailboat, motor and electric boat offering for the 28th time in 2019.
35.000 visitors were attracted to the events, which is a significantly higher number, comparing to last year's event. This is a 25% raise on the events' joined visits in 2018.
Hungexpo's latest hall (G), was completely filled with the more than 110 boats of the 83 participating exhibitors, even occupying a part of hall F where the related services, equipment and water sports awaited the thousands of visitors. Great achievement of Budapest Boat Show that such volume of electric boats were never exhibited before in the CEE region.
Travel Exhibition
Even greater expansion than expected and consistent construction characterizes international and local tourism, and these two traits also defined the 42nd Travel Exhibition that has just concluded and which welcomed significantly more visitors than last year. In 2019, 300 exhibitors from 30 countries brought their novelties to HUNGEXPO Budapest Fair Center. Active relaxation and adventure were at the center of Hungary's number one tourism exhibition. This new pairing had a successful debut: The Travel Exhibition and the Budapest Boat Show complemented each other perfectly.
A total of 35,000 visitors, a significant increase year on year, came to the Travel Exhibition and the Budapest Boat Show, which were held simultaneously (this number is 25% higher than the combined total of last year's visitor numbers to the two exhibitions). Tourism experts say the increased visitor numbers signal the expansion of local purchasing power and the strengthening of international tourism.
Sirha Budapest
The Hungarian capital will have the chance to host the regional event of Europe's most significant HoReCa and Retail Show, Sirha Budapest. This marks an event not to be missed by those working in the catering industry, where the professional audience can meet the key operators of the sector and discover the latest developments of the gastronomy scene at HUNGEXPO Budapest Fair Center. The event is the only domestic exhibition with all the key components: gastronomy, hotel and restaurant catering, industrial kitchen appliances, food trade, baking industry and a host of other related services. Perhaps it's no exaggeration to say that the reputation of Sirha Budapest was established by the European Selection of Bocuse d'Or and the Hungarian achievements at the event.
Gardenexpo
As Hungary's one and only gardening and outdoor living show, GardenExpo is here to inspire garden enthusiasts to transform their homes into something truly magical. Visit GardenExpo and make your dream garden happen!
Prepare to discover world-class innovations, ideas and products you've never seen before. At the Expo, gardening professionals and experts present their latest garden furniture designs and state-of-the-art garden appliances to visitors. Whether you're planning refurbishment or construction works or you're simply interested to see the latest outdoor trends, GardenExpo is the place for you.