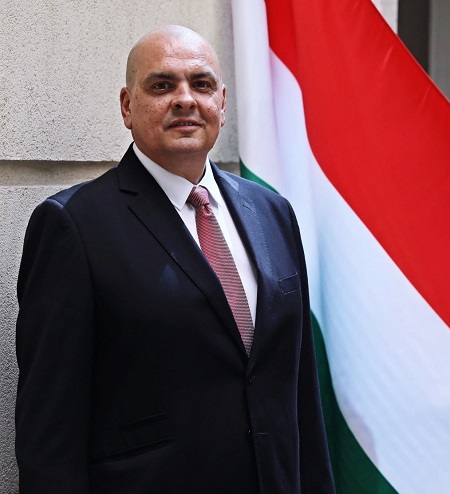 Welcome to the official website of the Embassy of Hungary in Doha!
Qatar is a sovereign state located amid the western coast of the Arabian Gulf. Its area equals the territory of roughly two counties in Hungary. For many years it has been ranked amongst the safest countries in the world, many who live here say that it is one of the greatest advantages of the country. Regardless of its small size, this Gulf State has the third largest natural gas reserve in the world. Its main revenue is derived from the export of liquefied natural gas (LNG). Such Qatari natural gas reaches Hungary through the Croatian Krk Island gas terminal, providing a contribution to the energy independency of Hungary. Proving its role in the global economy, Qatar is trying to raise its profile on the international stage: one of the leading airlines in the world is Qatar Airways, which sponsors numerous cultural and sporting events. Moreover, Qatar is a sizable shareholder in many leading European football teams. The upcoming FIFA World Cup in 2022 will be hosted in Al Khor, Lusail, Al Wakrah, and of course the capital, Doha. Substantial investments have been made during preparations to the world cup, which will be in use after the event too. The long-term goal of these investments is to transform the country into a tourist destination and one of the centers of international trade. The work of healthcare, educational, research and development, as well as humanitarian organizations is supervised by Qatar Foundation, which has its main focus on developing human resources both within and beyond borders. There is a Hungarian community of roughly 400 people in Qatar, most of them arrived with the purpose of employment, however some decided to settle here and establish a family.  Nurses, IT-professionals, lawyers, flight-attendants, doctors, pilots, coaches, musicians, and even drilling experts can be found in this little community.
The main task of our Embassy is to represent Hungary, and protect the interests of Hungarian citizens in Qatar. Our objective is to further strengthen bilateral relations between Hungary and Qatar by increasing cooperation in the field of commerce and the travel industry. All of us here at the Embassy work to attain these goals and we stay at your service in accordance with our mission.
Ferenc Korom
Ambassador