ROAD TRANSPORTATION:
Hungary has one of the highest motorway densities in all of Europe and the third highest road density after Belgium and Holland. Highways reach the borders of the country and the different regions of Hungary. Hungary has a central location in Europe, at the crossroads of four main European transportation corridors, including:
No. IV from northern Germany/North Sea to the Black Sea;
No. V from the Adriatic ports to Kiev-Moscow;
No. VII – the Danube River and Rhine-Main canal, from the North Sea; and
No. X the north-south corridor from the Baltic states to Turkey and Greece.
All major Hungarian towns – Debrecen, Nyiregyháza, Miskolc, Kecskemét, Szeged, Pécs, Győr, and Székesfehérvár – are all connected to the capital city, Budapest, by motorways (motorway total: 1,099 km).
---
RAILWAY TRANSPORTATION:
Due to its central location, Hungary has an extensive railway network. Rail transport carries more than 20% of total freight, which is well above the EU average. Several main train lines connect Hungary with the main ports of Western Europe (e.g. Hamburg (D), Bremerhaven (D), Rotterdam (NL) and the Adriatic (Koper (Sl), Trieste (I)) with regular services.
The total length of the Hungarian railway system is 7,729 km, of which double-track is 1,335 km (17.3%) and the electrified railway network is 2,628 km (34%). Záhony and its region is the junction and reloading centre for European standard-gauge railways and the wide-gauge system of the CIS states. There is a direct railway connection between China and Záhony; the transfer takes approximately 19 to 22 days.
---
AIR TRANSPORTATION:
Hungary has a number of international airports: Budapest Liszt Ferenc International Airport (BUD), Debrecen (DEB), and Balaton – Sármellék (SOB). There are also airports that cater for commercial and seasonal public flights in Győr (QGY) and Pécs (PEV).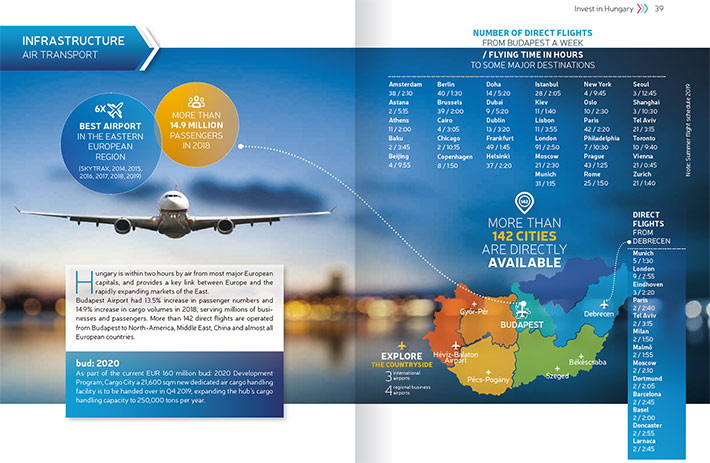 ---
WATER TRANSPORTATION:
Hungary has excellent waterway connections, as the Danube crosses through the whole country from north to south. The Danube-Rhine-Main canal in Europe links the North Sea and the Black Sea: several scheduled block train lines connect Hungary with the seaports of Hamburg, Bremerhaven, Rotterdam, and Antwerp (B) on the North Sea, and with Koper and Trieste on the Adriatic. The Adriatic seaports also offer alternative shipping routes from Asia. Lead times from these ports are within 16-36 hours.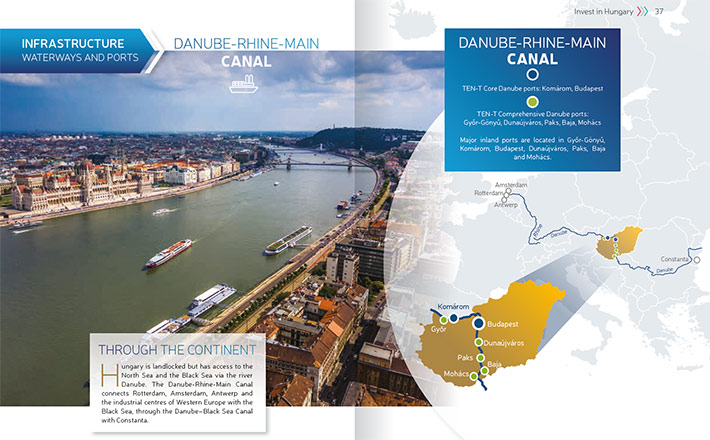 ---
LOGISTICS MARKET:
Hungary's geographical advantages make it an ideal place for international distribution centres, and offers many advantages for companies that wish to develop their logistics centres here in the future.
Due to its infrastructure and central position, large-volume development activity and transactions are concentrated in the vicinity of Budapest. To date, more than 30 modern logistics centres and warehouse parks of approximately 1.3 million square meters have been developed in a 30 kilometre radius around the capital, primarily along the M0 ring road. More than 200 industrial parks offer greenfield or brownfield investment opportunities countrywide.
Logistics activities are the most often outsourced services in Hungary and the sector accounts for up to 5-6% of Hungary's GDP.